The Suffolk and North Essex Occupational Safety Group has had a long and illustrious history. Sadly, however, early records of its long life were not kept or have, at some time, been lost to posterity.
The month of May, 1945, saw the end of five long years of World War Two. The country then endured a long period of recovery, virtual bankruptcy, and a gradual relaxation of rationing over the following nine years until 1954, when all rationing finally disappeared.
Somewhat surprisingly, during the latter part of 1945, a meeting of like-minded and far-sighted business people took place in Ipswich. Despite or perhaps as a result of the recent trauma everybody had experienced, they formed the Ipswich and Colchester District Accident Prevention Group. This could be described as far-sighted in as much as the country had just emerged from a period of stagnation regarding health and safety legislation and arguably very little, if any, enforcement. It was also at a time when such matters were probably not too high on the list of priorities.
This Ipswich/Colchester Group pre-empted the establishment, in 1947, of the National Health and Safety Groups Council, formed as a co-ordinating body for the network of local Occupational Health and Safety Groups in the UK. This body is now known as Safety Groups UK.
In 1949, there were some thirty local companies who were members of the Ipswich and Colchester Group, when Ipswich was home to a 'Who's Who' of companies whose names were world renowned. Examples included; Ransome, Sims and Jefferies; Ransome Rapier; Cocksedge; Reavell; Crane; Churchman and many more. They paid a grand sum of one guinea per annum for membership! Sadly, the passing years have seen most of these companies disappear.
Monthly meetings were held, hosted usually by member companies making their facilities available to the Group, and to which a guest speaker would be invited, thus keeping members abreast of developments in the contemporary occupational health and safety sphere. A strong association with the Factory Inspectorate, later to become the Health and Safety Executive, was established from the outset. This fact could not be better exemplified by the long association with the group of the late Margaret Woodley M.A. Margaret was in the vanguard of lady Factory Inspectors and served in this area during the 1950/60's as a Principal Factory Inspector. She had a long association with the Group, becoming its President for several years before her sad and unexpected death. It was not unusual to see an attendance of over forty members at these monthly meetings!
The Group's annual programme, including an Annual General Meeting, has stood the test of time, with the exception of the Annual Luncheon (in later years the Annual Dinner), which was discontinued. The early 1970's saw the name of the Group become the Suffolk and North Essex Occupational Safety Group (SNEOSG). More latterly, the Group staged annual seminars which received awards from Safety Groups UK.
RECENT YEARS
In our 2014-5 committee year we were very proud to redefine the way in which our group operated, with direction given by the committee, now referred to as the steering group and the groups day to day running is managed by the chairperson, administrator and treasurer together, through efficient collaboration and communication behinds the scenes.
Earlier this year we were awarded a Gold Standard Alan Butler Award by Safety Groups UK as recognition for our recent achievements. Some of our committee and group members were invited to London to collect the award and were joined by our local MP who was very pleased with the work we do and happy to support us.
One of our long standing committee members and 2014-5 chairperson, Andre Castle developed and Road-Map which gives an over view of our community. The vision set out at this point was that the map would ultimately guide us to be able to reach out to every section of our community and promote positive health and safety for all.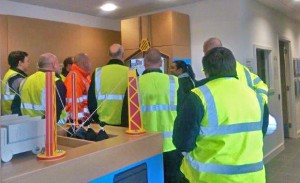 In March 2015 we organised a visit to the local Energy From Waste plant which has been recently commissioned at Gt Blakenham near Ipswich. The day was enjoyed by all who attended and gave a great insight into its operation and the technology used to manage the site and all its safety features. Site visits organised by SNEOSG attempt to cover a broad range of industry, and allow discussion about how Health and Safety concepts are applied within differing industry sectors. We even got to experience the interactive centre they have created for young visitors to the plant.
Our AGM in May saw the appointment of a new Chairperson, and some fresh faces to our committee. This has given the steering group a new lease of life and renewed enthusiasm to develop the group, and extend its benefits for the members. With this in mind the steering group took the education element of the Road map and set to work finding a way to involve local schools in our group activities to help improve the workforce of the future and the way they see health and safety playing a part in their futures. A meeting with Tomorrows People led to the development of a project where members and steering group members will visit local schools over the coming year to talk,  to year eleven students who are about to embark on their working lives, about how health and safety plays a part in their industries
Our 70th Birthday Celebrations started in October with a visit to the Longshop Museum at Leiston, and it was a truly enjoyable afternoon looking at how the health and safety standards have developed over the years of our existence. With some of the old members in attendance and the new younger members attending too the expanse of knowledge and enthusiasm was something to be admired.